How to Setup and Install Lumifice Illuminate LED Light Strips
Lumifice LED light strips are super easy to set up and install in your home. Follow these few easy steps and you'll be up and running in no time!
Before starting, make sure the lights are unplugged.
1. Connect the
Power Adapter
 to the
LED Light Controller
.
2. Connect the
LED Light Controller
to the LED Light strips, making sure to align the arrows.
Note:
If you have a 25 foot kit, you will have 
1 roll
 of LED Light strips. 3. If you have a 50 foot kit (pictured below), you will have 
2 rolls
 of light strips.
Remove the small plastic strip sticking out of the bottom of the remote to activate the batteries
4. Scan the QR code on the LED Light Controller to download the app or go here:
Download the app
Now you're all set to install the lights! 
Below are step-by-step instructions on how to prep and install the lights.
1. Dry and Clean The Install Surface
The light strips backing is a 3M double sided tape that will stick best on clean, smooth surfaces. Wipe the areas you will be sticking the light strips with a damp cloth to clean off any dirt. 
2. Unroll the strip light, cut at the cut markings if needed.
Fully unroll your light strips and lay them out where you are planning to install them. Optional: Cut the light strips ONLY at the indicated cut marks if you need to shorten them.
Peel the adhesive tape on the back of the lights and stick it on the surface. Ensure that it is firmly adhered and has no air bubbles. 
3. Stick light strip to the surface
Now you can tear the 3M self-adhesive and paste it to the surface.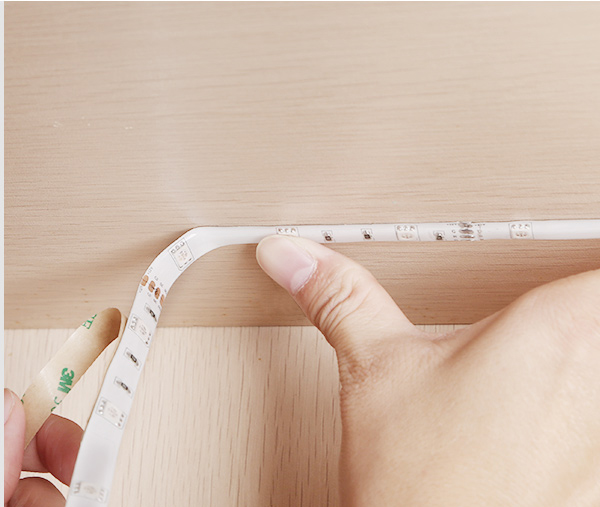 4. Plug Lights In and Set The Mood
Last step is to plug the light power adapter in to the wall and power them up using the power button on the remote. 
That's it! Now you can start setting the color and mood of your room!